No matter which career path you take in your fire science interests, an attempt to understand the causes of fires and how they may take lives remains a concern. Recent wildfires in Texas, while sometimes uncontainable for days, often don't take as many lives as short-lived blazes within hotels and nursing homes. A cigarette or a match thrown into the woods may take homes, but the same fire source may take as many lives within one nightclub — and it is that loss of lives that makes a fire memorable, especially when people die from suffocation, inhalation of building materials and in the crush of panic to leave a building. The skill lies in learning how to avoid those situations again…although — as you may see in the list below — history often repeats itself. The following 25 fires occurred in the U.S., and they are ranked in order of their deadliness.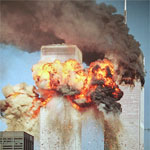 1. World Trade Center, New York, NY: On September 11, 2001, two airplanes crashed into the Twin Towers killing everyone aboard and thousands of those working in the buildings (official death toll set at 2,752). The burning towers collapsed within two hours, destroying nearby buildings and damaging many others.
2. Iroquois Theatre, Chicago, IL: An arc light shorted out and ignited a curtain during a show on December 30, 1903. The theater quickly became engulfed in flames, and 602 people died within 20 minutes.
3. Cocoanut Grove, Boston, MA: On November 28, 1942, approximately 1,000 people were in the nightclub (official capacity: 460). Flimsy and flammable decorations and furniture easily went up in flames when someone lit a match, killing 492 people and injuring hundreds more.
4. Ohio Penitentiary, Columbus, OH: On April 21, 1930, a candle ignited some oily rags and killed 322 inmates. Chester Himes, an inmate at the time, wrote about it in an Esquire story and in his book Cast the First Stone (later republished as Yesterday Will Make You Cry).
5. New London School, New London, TX: An undetected natural gas leak was ignited by an electric sander on March 18, 1937, causing an explosion and fire that killed approximately 300 people.
6. Rhythm Club, Natchez, MI: On April 23, 1940, a carelessly discarded match is believed to have started the social club fire that killed 209 people, most from smoke inhalation or from being crushed while trying to escape, as the exists had been locked and the windows boarded up to prevent outsiders from looking in and hearing the music.
7. Collinwood School, Cleveland, OH: On March 4, 1908, 172 students, two teachers, and a rescuer were killed when overheated steam pipes ignited nearby wood joists.
8. Rhoads Opera House, Boyertown, PA: A fire started when a kerosene lamp was knocked over, lighting gasoline from a stereoscopic machine on January 13, 1908. Unable to escape through the one exit, 171 people died.
9. Hartford Circus, Hartford, CT: On July 6, 1944, a fire was started — probably by a carelessly flicked cigarette — at the Ringling Brothers and Barnum & Bailey Circus, killing 156 people and injuring over 700. The tent had been waterproofed with paraffin dissolved in gasoline, which melted and rained down like Naplam.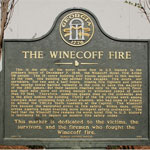 10 Beverly Hills Supper Club, South Gate, KY: On May 28, 1977, a fire caused possibly by faulty wiring killed 165 people and injured 200.
11. Triangle Shirtwaist Factory, New York, NY: A fire on March 25, 1911 trapped (mostly) immigrant working women and girls behind doors that had been locked by management to prevent them from stealing. Many jumped out of windows to escape, and 148 people died.
12. Cleveland Clinic, Cleveland, OH: On May 15, 1929, an exposed light bulb got too close to nitrocellulose X-ray film and started a fire causing 123 people to die from the fire, explosion, and released poisons.
13. Winecoff Hotel, Atlanta, GA: Now called the Ellis Hotel, this building once was considered fireproof; yet on December 7, 1946, a fire killed 199 people, including youth at a conference organized by the YMCA and Christmas shoppers.
14. The Station, West Warwick, RI: On February 20, 2003, the band Great White's pyrotechnic props set off a flash fire that burned the nightclub to the ground in six minutes, killing 100 people and injuring 230.
15. Our Lady Queen of Angels School, Chicago, IL: On December 1, 1958, three nuns and 92 students died when smoke, heat, and fire cut off their escape through corridors and stairways.
16. Happy Land, The Bronx, NY: A jealous boyfriend, who was also angry because he had recently lost his job, deliberately started a fire at the social club on March 25, 1998, killing 87 (mostly) ethnic Hondurans celebrating Carnival.
17. MGM Grand Hotel and Casino, Las Vegas, NV: Faulty electrical wiring caused a fire to break out in The Deli restaurant at what is now Bally's Las Vegas Hotel on November 21, 1980. The fire spread through the hotel and toxic fumes circulated via the ventilation system, killing 84 people, almost all from smoke inhalation.
18. Katie Jane Memorial Home for the Aged, Warrenton, MO: On February 15, 1957, a linen closet fire quickly spread through the building, eventually killing 84 people.
19. Golden Age Nursing Home, Fitchville, OH: A fire broke out so quickly on November 23, 1963 that an attempt to call the local fire department proved fruitless when the facility's telephone wires were burned, and 63 patients perished.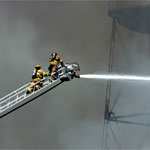 20. La Salle, Chicago, IL: A fire broke out in the lower floor cocktail lounge on June 5, 1946, and spread through the hotel by ascending stairwells and shafts, killing 61 people, most from suffocation.
21. Gulf Hotel, Houston, TX: On September 7, 1943, a smoldering mattress thought to have been extinguished burst into flames and quickly spread, killing 55 people (official count).
22. UpStairs Lounge, New Orleans, LA: On June 24, 1973 a Molotov cocktail was lobbed into the gay-friendly bar, and 32 people died from direct immolation or inhalation of fumes.
23. Imperial Foods Chicken Processing Plant, Hamlet, NC: A hydraulic line failure caused a fire on September 3, 1991. Trapped behind locked doors, 25 people were killed and 54 injured.
24. Study Club, Detroit, MI: A carelessly discarded cigarette started a fire that killed 22 people and injured over 50 in the dance hall on September 20, 1929. Most died from suffocation and asphyxiation from toxic fumes emitted by the burning debris.
25. St. Johns School, Peabody, MA: On October 28, 1915, 21 girls between the ages of seven and seventeen were burned or crushed to death while trying to escape a fire.